Main Library for B.Com Students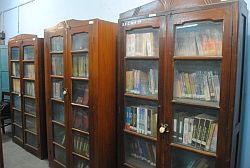 The College has a computerised library with an attached reading room in the second floor of the Administrative Block for the B.Com students. The library is well-equipped with sufficient number of text and reference books and journals.
The college library and the reading room remain open from 2 p.m. to 8.30 p.m. on weekdays and from 5 p.m. to 8.30 p.m. on Saturdays.
After admission the students are to contact the Librarian of the college for their
Library Cards.
Library rulles are displayed on the notice board of the library. Students must observe the library rules strictly.